Cranial & Spine SRS
End-to-End
Submillimetric

Accuracy Workflows
Cranial & Spine SRS
End-to-End Submillimetric
Accuracy Workflows
ExacTrac Dynamic is especially valuable for cranial stereotactic radiosurgery (SRS) and spinal stereotactic body radiation therapy (SBRT) treatments. During treatment delivery, this all-in-one system manages intra-fractional motion at a high frequency.
ExacTrac Dynamic
Your precision partner for radiotherapy and SRS treatments.
How does the system work for cranial and spine SRS?
By combining thermal and surface tracking with X-Ray imaging, ExacTrac Dynamic offers clinically proven, submillimetric accuracy.
The system supports safe margin reduction through high sensitivity and enabling verification and repositioning at any couch angle.
Why is intra-fraction motion monitoring critical for cranial and spine SRS?
High-dose cranial and spine treatments with single- or hypo-fractionated protocols require high accuracy to ensure that the treatment is focused on the target volume, while healthy tissue and critical structures are protected from dose.
ExacTrac Dynamic is a room-based system that provides instantaneous X-Ray imaging for detailed target information based on the patient's internal anatomy. The high-accuracy patient positioning information and the deep integration with most linear accelerators allows for beam hold and repositioning during treatment at any couch angle throughout the treatment.
Software
Function-focused user interface
The customizable, user-centric user interface brings function to the forefront. Automated workflows with preset indication-specific templates drive standardization of treatments throughout the department or even across multiple locations.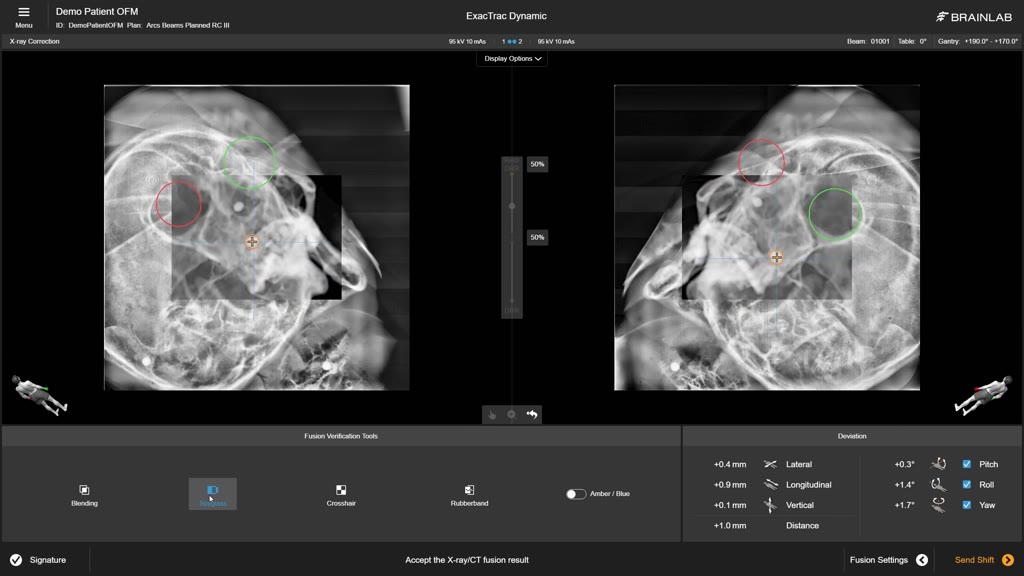 Advanced image fusion*
Larger and higher quality X-Rays are matched on the software side with extended DRRs for better visualization of and easier orientation within the patient anatomy. Convenient fusion tools such as the rubber band snap back fusion functionality further simplify the verification process.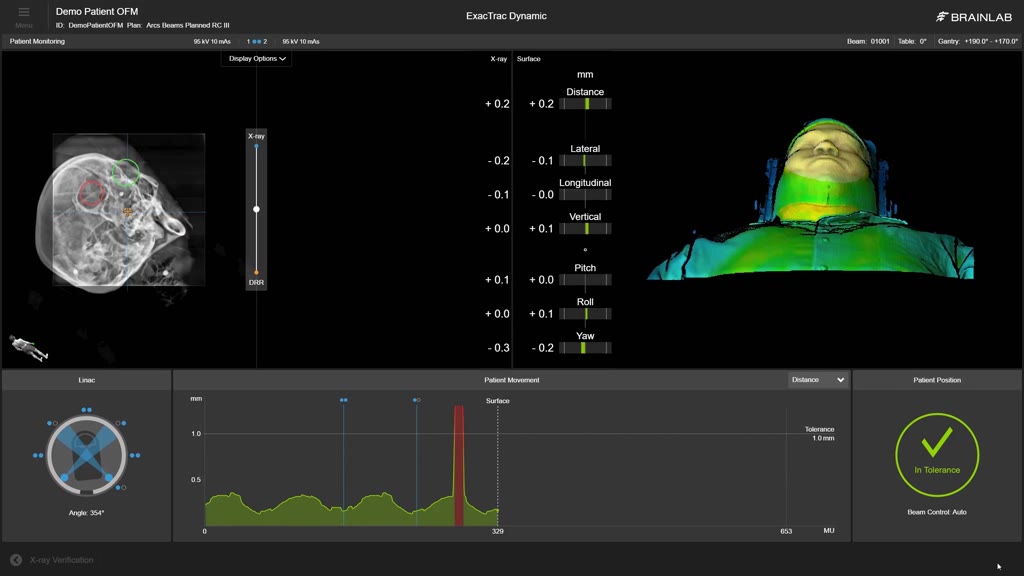 Deep linac integration
Deep integration with high-end linear accelerators enables not only automated patient loading but also automated beam-hold based on preset surface and X-Ray tolerances. The same deep level of integration allows for the automated triggering of X-Rays based on predefined gantry angles or MU intervals.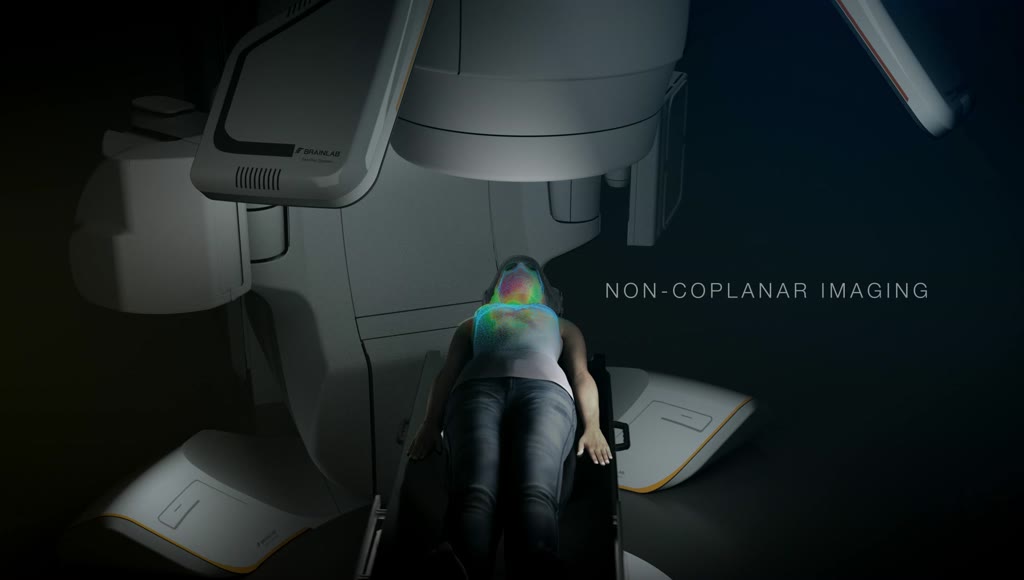 Non-coplanar monitoring & correction
ExacTrac Dynamic continuously verifies the patient's initial position with X-Ray imaging throughout treatment delivery. Even at non-coplanar couch angles and during beam-on, the system can detect potential patient misalignment helping to mitigate treatment errors.
Cranial 4Pi Immobilization
Completely revamped, ExacTrac Dynamic immobilization is now a straightforward, all-in-one solution. The new dose optimized and user-friendly design is compatible with several available couch tops.
Cranial and Spine SRS Workflows
Increasing accuracy in radiation therapy with ExacTrac Dynamic
Our all-in-one system addresses a wide range of challenges associated with cranial and spine SRS that previously required multiple systems.
Want to see ExacTrac Dynamic in action?
Want to see ExacTrac Dynamic in action?
Compared to ExacTrac 6.5 or 6.2